Shopping Cart
Your Cart is Empty
There was an error with PayPal
Click here to try again
Thank you for your business!
You should be receiving an order confirmation from Paypal shortly.
Exit Shopping Cart

This log cabin features three queen-sized beds, a living area with couches and recliner, and a full kitchen with sink, refrigerator, stove/oven, microwave and storage cabinets. One of the beds is located upstairs in a private bedroom, while two of the beds are on the ground floor. The bathroom with shower is in the basement, and there are two sinks, one in the bathroom and one outside it, for our guests' convenience. The basement also has a new washer and dryer. We provide a television, a VCR/DVD player, and a small collection of movies. You can also bring your own favorite movies to watch, or check out the local news, network, or cartoon channels.
This photo shows the large room on the ground floor, including one of the beds and the living area with TV and gas fireplace.
This lets you see both beds and the door leading into the kitchen. The door on the right leads to our new back porch, where you can relax in two Adirondack-style chairs.
There is also a grill and a picnic table out back.
The kitchen, along with the other rooms in the cabin, feature cabinets, table, benches, chairs, and other furniture made by local craftsmen.
This is the private bedroom located upstairs.
The basement features a cabinet full of clean towels, a new washer and dryer, two sinks, and the bathroom.
The cabin is newly renovated, with new poplar and tile floors and poplar ceilings throughout the ground floor and the upstairs.
This gives you one view from the porch: out towards the barn on the property, which we offer to rent for weddings.
Wildlife abounds in the woods surrounding the cabin, and we often see wild turkeys running across the yard, and many other birds, as well as deer. You will probably be able to peek out the cabin windows or sit on the front porch and see these animals and more.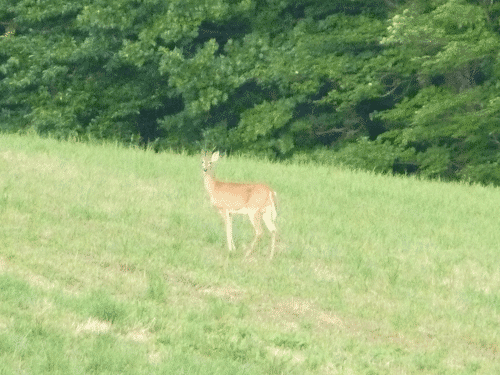 There is also a pond near the cabin, which draws in birds and other wildlife.
You can see the pond from this sitting and dining area near the old-fashioned fireplace outside.
We also have a nice swing on the porch of the cabin.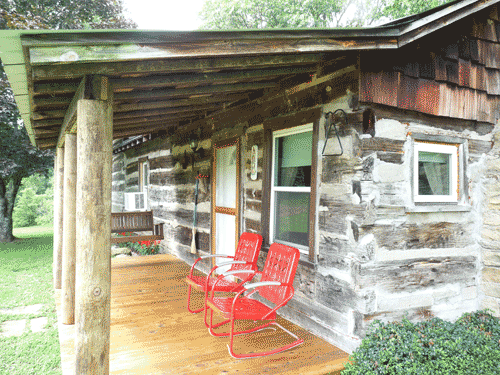 If you like hiking, try one of the gravel paths near the cabin, or head off the path and into the woods. You may find evidence of the coal miners who once worked in this area, or a rock house made of cliffs that people lived in during the Depression, or you may even discover a waterfall. There are several on the property, and there may be a few we haven't found yet!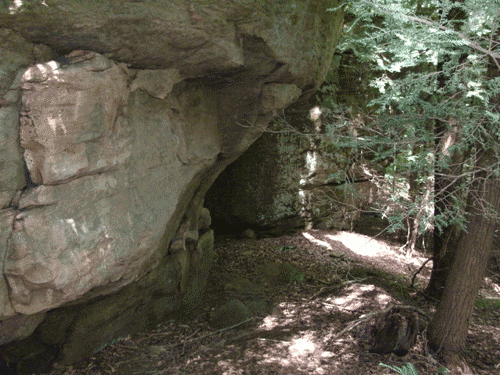 Ben and Bart Wells, the craftsmen who remodeled the cabin, took this photograph of the rock house.
For more photos, please visit the Photos page.
/